NOTICE! NOTICE!! NOTICE!!!
_STATUTORY NOTICES_
1. Our Sunday Services are 5:30am; 7am and 9:30am services.
2. Beginning the week with Jesus on Mondays at 5:30am.
3. Mid week Holy Communion service on Wednesdays at 5:30am; followed by one Hour intensive prayers for those with special needs.
4. Moment of Encounter at 5pm same Wednesday.
5. Growth and Maturity Class every Friday at 5pm.
6. Family Clinic every Saturday at 5:30am.
7. Baptism every last Saturday of the month at 5pm.
SUNDAY, LENT 4, 19th March 2023.
MOTHERING SUNDAY
1. Greetings and welcome to this divine service in Jesus Name. Amen.
2. New comers and visitors are warmly welcome to the Church at Nnewi.
3. Our 40 Days Mountain Top Experiences continues everyday in the morning at 5:30am, and on Wednesdays in the evening at 5pm.
4. Group 3 women in charge of cleaning the Church this month of March.
5. Today is mothering Sunday. We wish all the mothers the best in life and family. We shall give support to the women ministry.
6. Umudim Anglican Community to host Diocesan Women Conference 2023. Pray and be part of its success.
7. Children Easter Camp begins on Easter Monday 10th to Easter Wednesday 12th April at all Archdeaconry Headquarters.
8. St. Stephen's Village General meeting holds on Sunday 26th March after 7am service.
9. Emergency Parochial Church Committee holds tomorrow Monday immediately after the conference planning committee at 5pm.
10. Diocesan Board and Finance holds on Saturday 25th March at Carol Convent Ichi at 10am.
11. Service for Annunciation of the Blessed Virgin Mary holds on Saturday 25th March at 5:30am.
12. Next Sunday is PRAISE, WORSHIP and TESTIMONY Sunday. Services are 5:30am and 7:00am.
We shall have a guest Preacher.
13. Umudim Archdeaconry Women Conference 2023 begins on Friday 31st March at the Church of Messiah Okunoegbu.
14. All men to be admitted into CMF will have one hour preparatory class tomorrow Monday from 4 – 5pm.
15. St. Stephen's EFAC to hold a Business Seminar Carrier on Monday 20th March at 4pm here in the church.
16. Amazing Singers to have their rehearsal tomorrow Monday at 5pm. Those interested can join.
17. Church Evangelism Outreach Meeting to hold on Monday 20th March from 7am to 12pm. All members of the Media, Prayer, Drama, Band, Visitation and Evangelism Groups to take note.
18. Evangelism Outreach on Sunday 26th March at Okpunoegbu by 4pm. This is Church Outreach, endeavour to come.
19. Funeral service of late chief Prof. Solids Obi (Obi Umuele) on Friday 24th March in his residence.
20. Hospital and Visitation Team to meet on Tuesday 21st March by 4pm. Come fasting and praying.
21. St. Stephen's Girls' Guild General Meeting holds next Sunday 26th March immediately after 7am service in the Hall.
22. Boys and Girls Brigade Meeting and Practice holds tomorrow Monday 20th March here in the Church by 12noon.
23. Re-dedication service of Boys and Girls Brigade next Sunday 26th March in the 9am service.
24. *ST STEPHEN'S CHURCH ACM BRANCHES AND THERE LOCATION.*
OKPUNOEGBU VILLAGE
a) Divine Branch – at Sir Enerst Onyegbuna compound
b) Grace Branch – at Chukwudebelu compound
URU VILLAGE
a) Zion Branch – at Engr Felix Nwosu compound.
b) Miracle Branch- at Mr Ben Offor Compound
c) Bethel Branch – at Mr Amaobi Chukwuka compound
UMUELE VILLAGE
a) Victory Branch – at Sir CC Okoye compound.
b) St Stephens Branch – inside the church compound.
Parents should allow their children to join in any near by branch.
*CATCH THEM YOUNG FOR CHRIST*
25. We appeal for sponsors for our Evangelism Outreach:
~5000 copies of Tracts N40k
~Equipments/Transport N30k
~Radio Programme Alpha N160k (1st quarter).
26. Our Bishop is coming to our Church St. Stephen's next month for Confirmation and Admission. Get ready!!!
27. We solicit for your sacrifice of Wears, Foods and Money on our Week of Sacrifice. Please give your good wears; you can buy new clothes and shoes etc to help those who are seriously in need of them.
SEE OR DROP COMMENTS AT THE BOTTOM OF THIS PAGE
Nnewi, Anambra State, Nigeria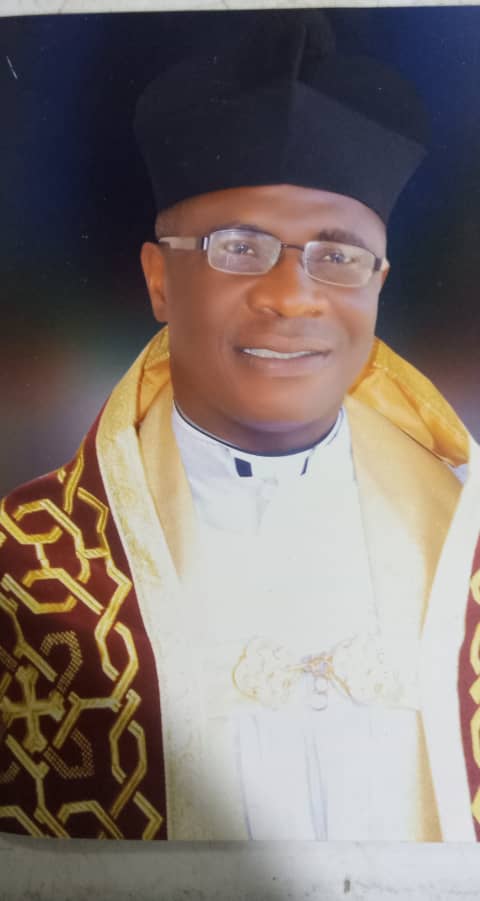 VEN. PATRICK AMAECHI NWEKE
Vicar / Archdeacon.
St. Stephen's Anglican Church, Along Owerri Road, Umudim, Nnewi, Anambra, Nigeria
Nnewi, Anambra State, Nigeria
*NOTICES! NOTICES!!* _STATUTORY NOTICES_ 1. Our Sunday Services are 5:30am; 7am and 9:30am services. 2. Beginning the week with Jesus on Mondays at 5:30am. 3. Mid week Holy Communion s […]
Nnewi, Anambra State, Nigeria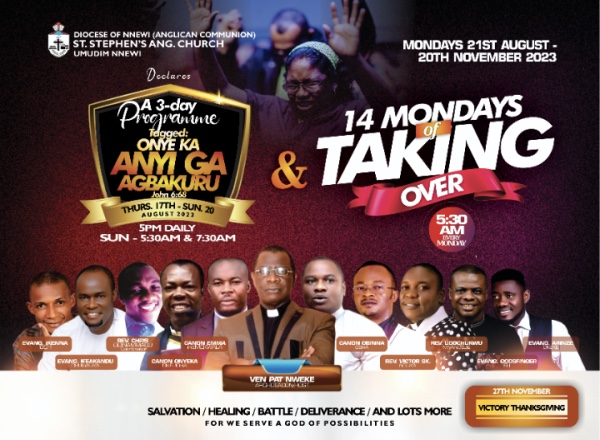 Our ongoing Program Tagged ONYE K'ANYI GAGBAKURU? is becoming hot. Tomorrow will be wonderful in 2 services- 5:30 & 7:70am.
Nnewi, Anambra State, Nigeria
---
---
---