Full or Part Time ?
Full Time
Married to Mrs Blessing Ebere Egwuatu.
Father of Four Children, Triumph, Treasure, Uniquegift and Greatgift.
Born on 1st May, 1981 native of Ndiakwu Otolo Nnewi, Nnewi North LGA of Anambra State. Eighth and last child of Late Mr Johnny Chukwumanjo and Late Mrs Grace Amanjidenwa Egwuatu (Nee Nwosu of Umunnealam Umudim Nnewi)… Grew up at Ndiakwu Otolo Nnewi, attended Ndiakwu Community Primary School Otolo Nnewi. Later Nnewi High School and Merchants of Light School Oba(Special Science Session 1998 set)
Graduate and Post Graduate Studies were all done at Nnamdi Azikiwe University, Awka… where he bagged
1. B Tech Honours in Physics Electronics (2004)
2. PGDE Education Foundations (2009)
3. MScEd (Physics Education) 2016
4. Dip Theology (SPUCA)
Tochukwu is a child of God, called into the ministry in Anglican Communion of Nnewi Diocese. He believes that academic institutions; Primary, Secondary and tertiary are extended platforms to raise disciples of our Lord and Saviour Jesus Christ. Presently, he is the Principal of Bishop Uzodike Memorial Seminary Nnewi, having served in a good number of mission schools in our Diocese. Together with his wife, Blessing and his four children, they live in the Seminary.
He has authored three books among which is : The Making of The TAKE-OVER GENERATION.
Ordination.
Ordained December, 2011
Preferred Canon of the Cathedral. .. July 2019
ARCHDEACON…. September 2022.
Current Church Post / Branch
Chapel of Light, BUMSEM
Principal, Bishop Uzodike Memorial Seminary, Nnewi, Anambra, Nigeria
Reading, Writing, public speaking.
My Special Skills and Talents
Training And engaging in discipleship with the young. Believes in leadership development skill and influence.
1. B Tech Honours in Physics Electronics (2004)
2. PGDE Education Foundations (2009)
3. MScEd (Physics Education) 2016
4. Dip Theology (SPUCA)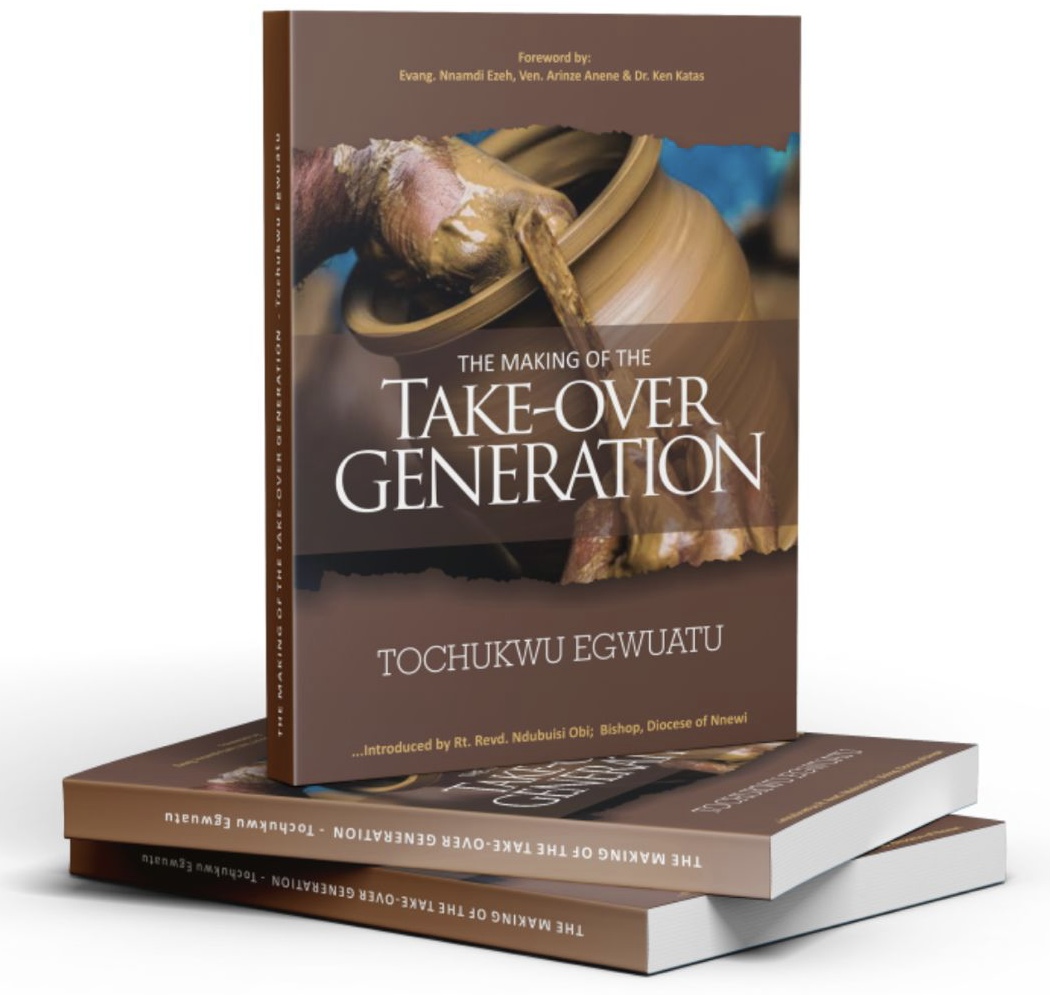 THE MAKING OF THE TAKEOVER GENERATION by TOCHUKWU EGWUATU
Book Prices
Paperback Copy – ₦1000 per copy
(Delivery Cost Not Included)
---