It's obvious that corruption and insecurity is greatly crippling the socio-economic development of our dear country Nigeria at large, thereby denying a great number of Nigerians their fundamental human rights and adequate security, contributing to the perpetuation of poverty; causing political upheavals; beating the seductive drums of war, while other socio-political problems abound. Though this work is created to bring hope to the minds of everyone and create the atmosphere of confidence that every problem will last only for a moment.
Price(s) Of This Piece
₦70,000
Dimensions of This Art Piece
30 inches x 42 inches
The Artist(s)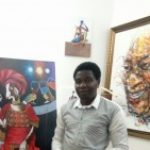 Michael Onyekachukwu okoye
How Many Were Originally Made
1
Vicilook Art Authenticator
Find the serial number on the back of the Art Work and write it on the line below, then click on the 'CHECK' button to authenticate if it's 'Original' or 'Fake'.
[vicilook_authenticator_shortcode]
---

Widget not in any sidebars

---
---
---
---