With God everything is possible. The work is a miniature ceramics sculpture piece that reiterates hope, courage, vigour, etc, in the minds of all humans.
Price(s) Of This Piece
₦15,000
Dimensions of This Art Piece
(11x8x8cm)
The Artist(s)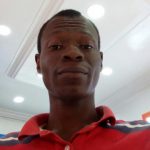 Joseph Ibekwe Obochi
How Many Were Originally Made
1
Can A Buyer Pay In Installments To Get This ?
Yes
Vicilook Art Authenticator
Find the serial number on the back of the Art Work and write it on the line below, then click on the 'CHECK' button to authenticate if it's 'Original' or 'Fake'.
[vicilook_authenticator_shortcode]
---

Widget not in any sidebars

---
---
---
---