Hi , welcome to the Vicilook Page of ;
---
Trumpet news is a tabloid that covers sociopolitical news and Christian doctrines. Thus its motto is To blow Christian doctrines and sociopolitical news. It has its headquarter at Nsukka Enugu state Nigeria and is a monthly publication for over 20years now.
---
---
List Of Our Goods & Services
News paper publication
Books publications
Stickers, Prints and media
Are Our Prices Negotiable ?
YES
Our Company's Reg Number
EN29237
Public, Private or Partnership Owned
Private
---
Trumpet news, Access Bank, 0048703483
---
---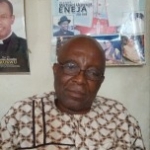 trumpetnews
When this Page was Launched
Last Modification Date Of Page
ViciWords
Best Newspaper brand in Nsukka Enugu State, Best Newspaper in Nsukka Enugu,
Number 1 Newspaper in Nsukka Enugu, Best Newspaper Company in Nsukka Enugu,
---
---