Hi , welcome to the Vicilook Page of ;
---
Vicilook Verified
Am Available
PREVAILING WORD ASSEMBLY (JESUS HOUSE INT'L) YOUTH MINISTRY presents ONE DAY TO CHANGE YOUR WORLD.
HOST: Dr Dan Ozoko
MINISTERING:
Dickson Cliff Okechukwu (Founder & CEO at Vicilook)
Pastor Samuel Gowon
Dr (Mrs) Chinyere Chibuko
Pastor Chike Ebido
Pastor Mrs Ify Ebido
Bro Okeke Ebuka .K.
FEATURING:
Outpouring Of The Supernatural,
Total Transformation,
Digitech & Financial Empowerment,
Success Insight,
Heart Talks,
Music,
Dance & Lots More
Come & Be Blessed
---
---
Saturday, 13th November, 2021
9am-2pm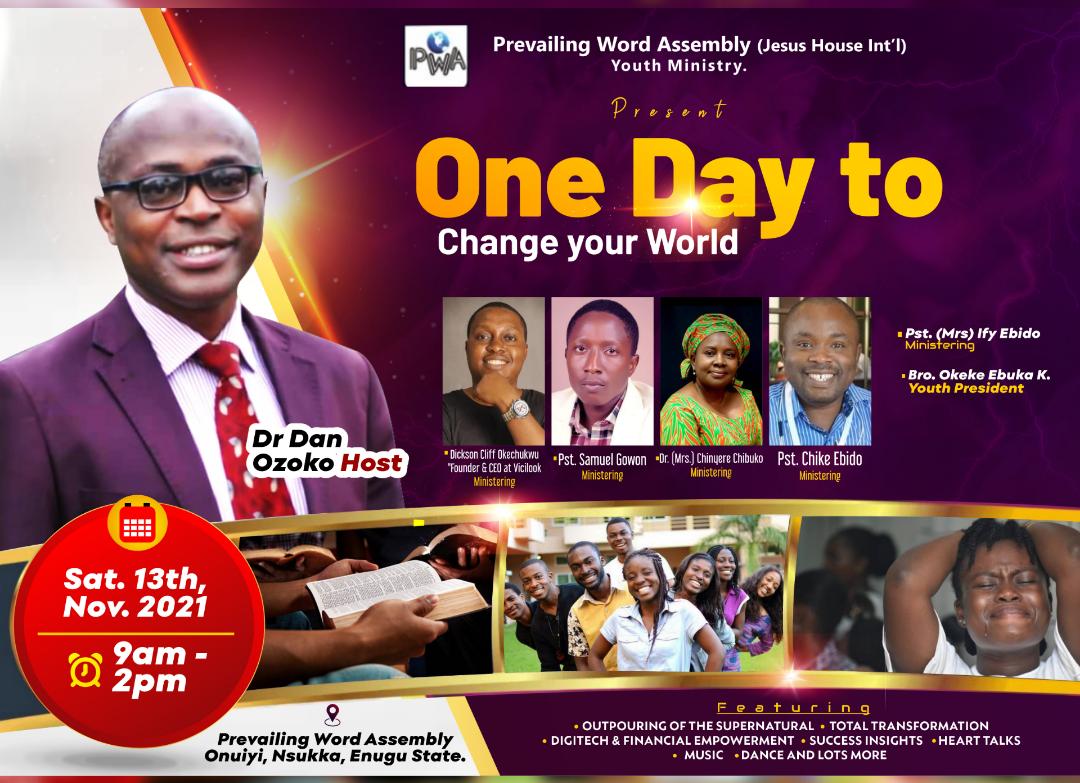 Public, Private or Partnership Owned
Private
---
---
---
Kindly Support This Event
Kindly Reserve A Seat / Table
Did You Enjoy This Event ?
When this Page was Launched
Last Modification Date Of Page
ViciWords
Prevailing Word Assembly Youth Ministry Events, Prevailing Word Assembly Nsukka Events, Church events at nsukka, Prevailing Word Assembly Youth Events, Jesus House International Nsukka Events, Jesus House International Nsukka Youth Programs, Prevailing Word Assembly Nsukka Youth Programs,
---
---