Hi , welcome to the Vicilook Page of ;
---
Vicilook Verified
Am Available
PATNEB INTEGRATED AGRO-ALLIED FARM ENTERPRISES is a home for all poultry products and services at its topnotch excellence,we provide products and services like; Products: Eggs, Poultry meat (Broilers and Old Layers), Poultry Manure. Services: Training in Poultry management & Business Plan Development of scales of Poultry business. Always at your service to give you the best for all your poultry needs. We also render professional consultation services, see them and their individual fees at the bottom section of this page. Thank you.
---
---
Are Our Prices Negotiable ?
YES
Our Company's Reg Number
2426640
Public, Private or Partnership Owned
Private
Agric. System Multipurpose Cooperative Society (ASMCS)
Do We Render Professional Consultations ?
YES
Do We Charge for Professional Consultations ?
YES
---
Poultry Farm Services
Income Flow in Poultry
Broiler Management
Call to know further ones,
Thanks
From 100,000 Naira
From 50,000 Naira
From 10,000 Naira
PATNEB INTEGRATED AGRO-ALLIED FARM ENTERPRISES, Union Bank, 0064018563
---
---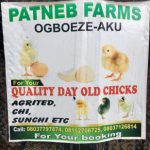 Patneb
When this Page was Launched
Last Modification Date Of Page
ViciWords
Poultry farm in Ogboeze-Aku Ogbede, Poultry farm in Enugu, Poultry farm in Nigeria, Poultry house in Ogboeze-Aku Ogbede, Poultry house in Enugu, Poultry house in Nigeria, Poultry services in Nsukka, Poultry farms in Ogboeze-Aku Ogbede Enugu Nigeria, Poultries in Ogboeze-Aku Ogbede enugu Nigeria, Poultries at Ogboeze-Aku Ogbede enugu Nigeria
---
---